updates from home and far away
Sign up to have our newsletter delivered to your home!
Contact us directly for multiple newsletters for churches and to pass out to your friends.
Looking for ways to get involved and help?
One of the best ways to help us is to spread the word about PCCR to your friends, family and church.
Contact us at info@plaincompassion.org if you'd like to schedule a presentation at your home church.
So much has happened…
A dedicated 501(c)3 is being formed to serve the long-term needs of Haiti's prisons, with a vision to create Haiti's first half-way house and discipleship program for inmates who have been impacted by the prison ministry of the past year.
A massive earthquake in Morocco left thousands of people exposed to the winter weather in the mountains and unable to survive until spring returns and they can rebuild. We're networking with other organizations to set up winterized shelters and sanitary facilities.
Due to security concerns, we cannot post this newsletter online. Instead, please enter your address to receive a copy in the mail. Thank you for your understanding as we work to keep our volunteers and partners safe in difficult circumstances.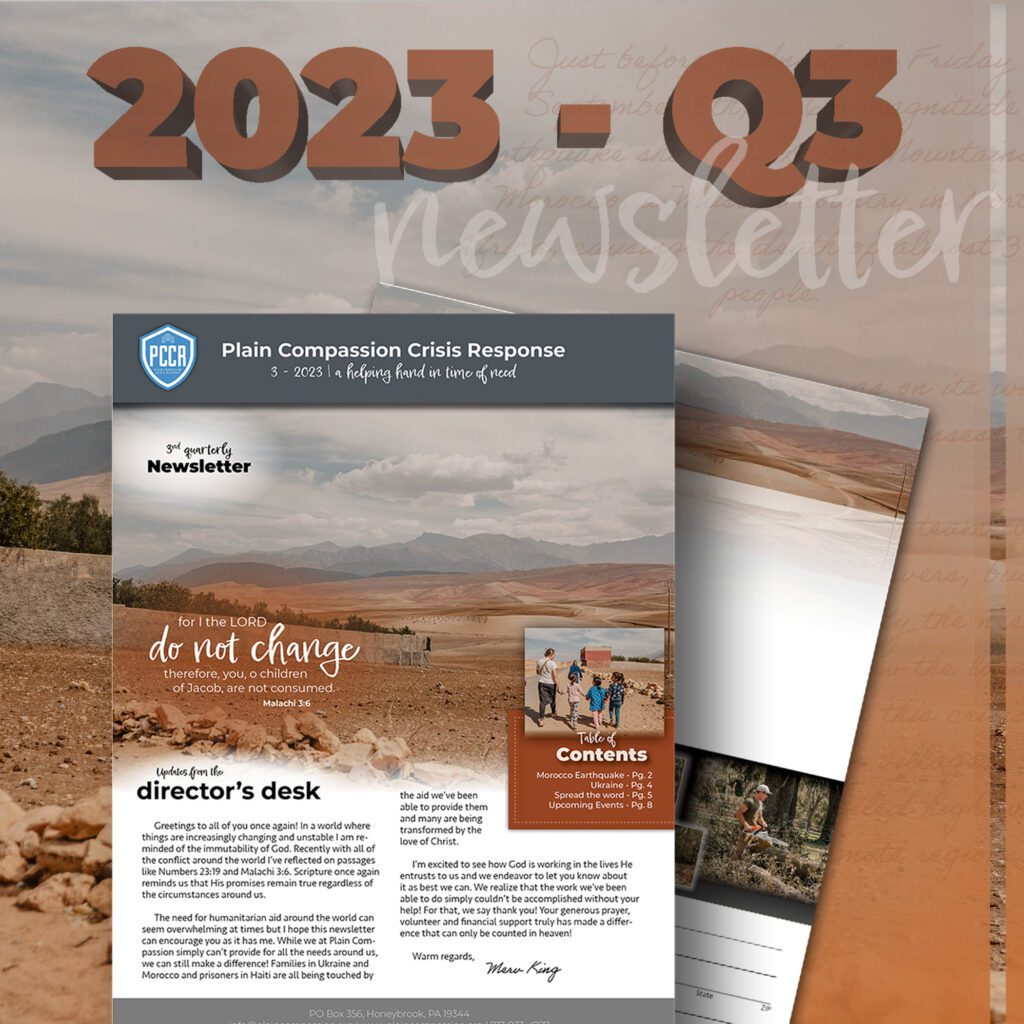 In the last quarter, we have focused a lot of time on internal development, as well as developing the training. Amidst all of that, our Field Director in Ukraine, Daniel Beiler, returned from Ukraine with his family and a small team of staff and volunteers went to Haiti to help with a localized flood response and to visit the project. It has been a productive time.
In this newsletter:
– Ukraine: Flood response to the dam break
– Haiti: An update from our Field Director
– US Response: The First Response Tool Trailer and RV are fully equipped, set up and ready to go!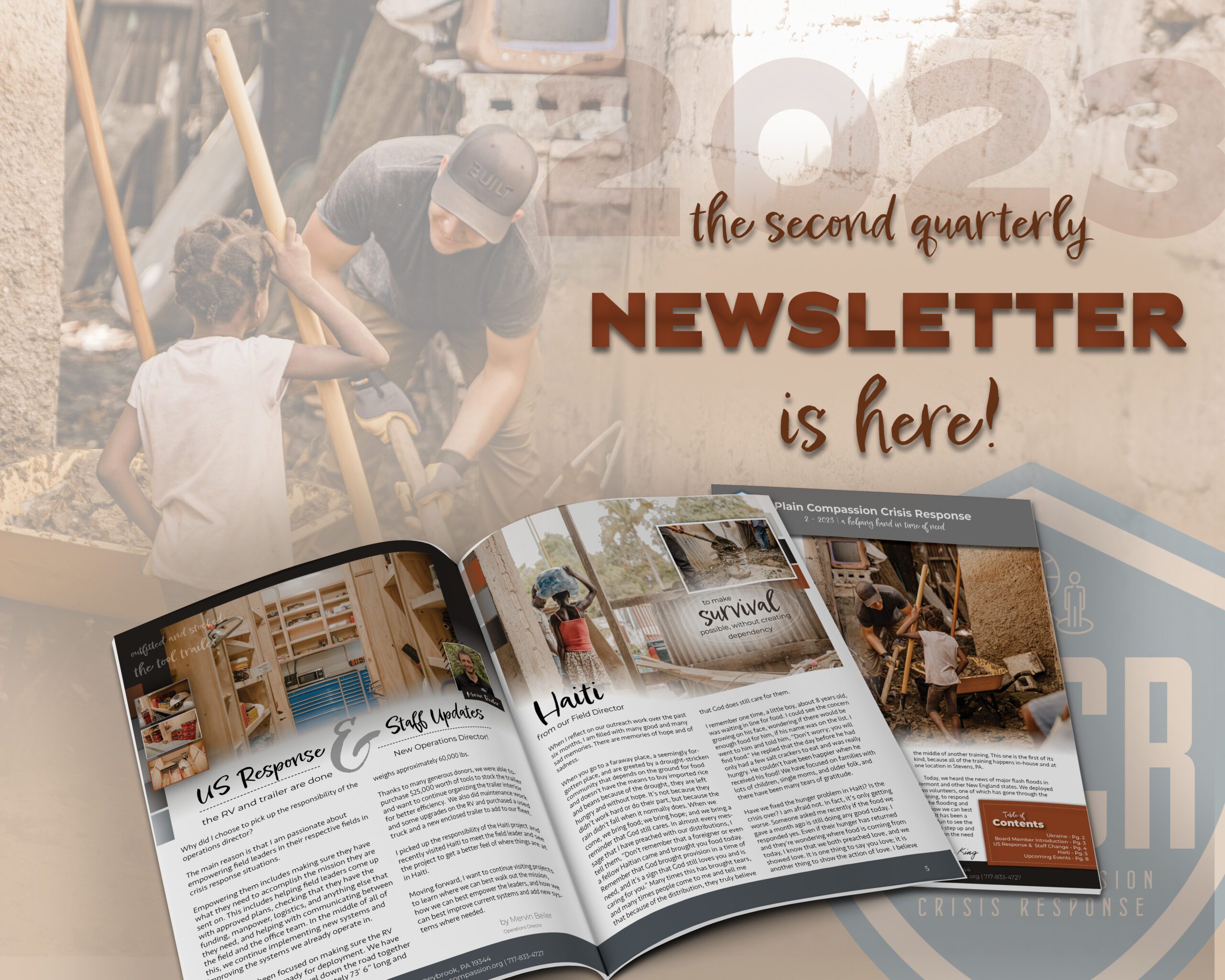 The first quarter of the year is past and it definitely just flew by. With it come changes to the operations… the work in Ukraine is taking a new direction. With most of the food distributions becoming increasingly unnecessary, we shifted our efforts to the medical needs along the front lines.
Following the tornado damage in Mississippi and Arkansas, we deployed two teams and helped with the cleanup. The teams spent a little over two weeks on the ground, putting tarps on homes, cutting up trees and cleaning up debris.
We're looking forward to the next season and appreciate your continued support. You are a vital part of this organization and we could not do what we do without your help. Thank you!
In this newsletter:
– Ukraine: A shift of direction
– Haiti: A visit from our Field Director
– US Response: Our response to Mississippi and Arkansas
The past year has been full of God's provision and protection. We've had incredible growth and want to express our gratitude to everyone who has contributed to this, whether by prayer, donations or volunteering time. In the midst of challenging times, your support and trust means so much to us and we're honored to partner with you to bring hope to the nations.
In this newsletter:
– Ukraine
– Spending Report
– US Response
– Haiti
Our quarterly newsletter is arriving in the mailboxes this week! Updates from Ukraine, a recap from the tornado cleanup in Kentucky, and we're excited to announce the Fall Awareness Event is scheduled for September 23rd & 24th!
If you'd like to be on the mailing list, make sure to sign up below.
The years we spent serving with Plain Compassion have truly been some of our best years! It has been a tremendous blessing traveling across the U.S., Canada, and other countries to see the destruction & loss firsthand, and the work that God is doing in the midst of it.
In this newsletter:
– IRAQ
– Louisiana
-Columbia
Greetings from Arauca, Colombia. As I'm sitting here writing the birds are singing, the sun is shining, the clouds are preparing for rain and life is a perpetual summer! Life is a new and beautiful, consistent, day in day out experience here. And we appreciate the love and support from all of you at home! God has provided for us richly in our physical, financial and spiritual needs.
Updates from:
-Lebanon
– Louisiana
-Columbia
The community center, and the Syrian border project has been shut down for eight weeks already due to the Coronavirus. Three weeks ago the only people who had permission to travel were military and medical personnel, humanitarian aid organizations providing critical care, and people moving food, household, and medical supplies.
Thousands of police and soldiers were patrolling the roads in Kurdistan. Stationed at all traffic lights and intersections that had any significant value. It looked like they may be preparing for a lockdown that could last months. This week they are loosening the restrictions, removing the checkpoints, and stores are opening again.
I'm sensing many things could change world wide, during and after the shutdown. Currently everything is on hold, and we are finding a new normal. The needs change during a time like this, however they are still there. We are taking one step, and one day at a time.Thank you for your prayers and support. We appreciate what you do!
– Daniel
Greetings from Iraq…
We have expanded the Syrian border project from having only one person as an assistant to several people taking shifts 5 – 7 days a week. Giving out footwear, jackets, and milk formula to people who are lacking these items. We are also supplying the kerosene used to keep the facility warm.
Currently we are doing paperwork to have PCCR registered in the Kurdish held areas of Syria. That should go through sometime next week and will give us easier access to the Kurdish held areas in Syria. Some of the people fleeing Idlib are traveling to the Kurdish areas. Our Syrian contacts are keeping us posted as this unfolds.
Our team has been experiencing God at a deeper level, and as a result people are being healed and set free from lifelong spiritual and emotional issues. They are opening up and experiencing joy and life. Others are confessing, and repenting of their sins.
It's amazing to watch as God draws each one closer to Him.
The community center at camp Berseve # 2 is a bright spot filled with lots of energy and life Monday – Thursday.
Currently we have around 50 students every day. We teach them various things including working with computers, and learning English. We also have children's hour for the little ones most of whom have lost one or both parents. It's a happy experience watching them learn and use what they are learning. Really though, it's not so much about the skills but about investing in them and bringing healing to their hearts. They're so full of potential!
We have a great desire that people would experience the presence of God as the doors of opportunity and connections are being opened.
On October 9th Turkish forces started bombing Kurdish occupied towns and villages in Northern Syria. Since then an estimated 400,000 Kurdish people are caught in the middle of this conflict and have fled for their lives. Hundreds of them are coming across the border into Kurdistan every day.
The Kurdistan Regional Government has set up a receiving station where the refugees are processed. They are identified, registered, and checked by medical personal. Later being sent by buses to refugee camps. We've been providing water and food to them as much as possible.
Yesterday one of the Generals in charge of the camps called asking if we can help provide more food and water. So far we have provided more than 10,000 bottles of water and 5,000 packages of food as they're brought in. Daniel is currently in communication with the government officials about how we can continue to help.
We have had an interesting summer that has been well spent in developing relationships, teamwork, and personal development. Also investing time in visiting people besides our regular work in the camps.
During the last 9 months the government officials here have asked us several times to start a community center in a refugee camp. Several weeks ago we decided to pursue it, and this week we have taken over a community center that was no longer in Use. It's located in a Yazidi refugee camp that is close to the Iraq – Turkey border.We will be starting English classes, a computer class, and a children's program there, operating four days a week.
Pray for wisdom, and discernment as we walk out this project, that it would be a source of life and light.
We are back in Iraq again after spending five weeks in the States! While we were gone we still had somebody taking care of the most urgent food needs in the camp. That usually consists of us being contacted by the camp staff when they find a family that has nothing to eat. These needs are rapidly increasing since the UN cut their food rations in half. Many people are again going hungry, and the people in the camps are increasingly desperate. Their future is still uncertain. Their homeland doesn't have the infrastructure restored and it is politically unstable. So here they sit five years later, in the same refugee camps.
On our end the last several months have been quite a bit different, being in the states for five weeks. During that time we started putting work into an orphanage in Mosul. The children living there are children from ISIS parents killed in the fighting. Several years ago, a three month old baby came into this orphanage. ISIS had laid the little boy out on the street, and acted like they would kill him. One at a time, three Iraqi soldiers dashed out trying to save the child. As they did so, they promptly got killed by ISIS snipers covering the setup. In the end an ISIS vehicle went to drive over the baby but just before the wheels crushed him, a large dog ran out and carried this baby back to the Iraqi soldiers. Who had just sacrificed three men in an attempt to save the baby's life. The orphanage took in this baby, who was then adopted out.
Pray for Iraq and the middle east. Many things are at a pivotal moment in time. God bless you!
-Daniel Beiler
We keep seeing a spiritual awakening in the Middle East, and things seem to be aligning. One by one, we see people touched by the presence of God.
We are seeing a pattern where the officials we're working with are deeply impacted. The impact is as great or greater with them, as it is with the refugees.
I am currently in connection with a lady who is in charge of two orphanages in Mosul. These orphans are the children of ISIS parents, who either died in the battle for Mosul, or are in prison. We are looking at ways we can partner with them. At this point they are not looking For volunteers, however they have renovations, and remodeling that needs to be done. One of the orphanages was turned into an ISIS base while ISIS had the city. They are now wanting to turn it back into an orphanage.
I spent a couple days in Sinair assessing the needs there. We are still looking at the big picture of what will have the most impact physically and spiritually.
We appreciate your prayers and support. Together we are making an eternal difference!
– Daniel Beiler