food and water - damage assessment and cleanup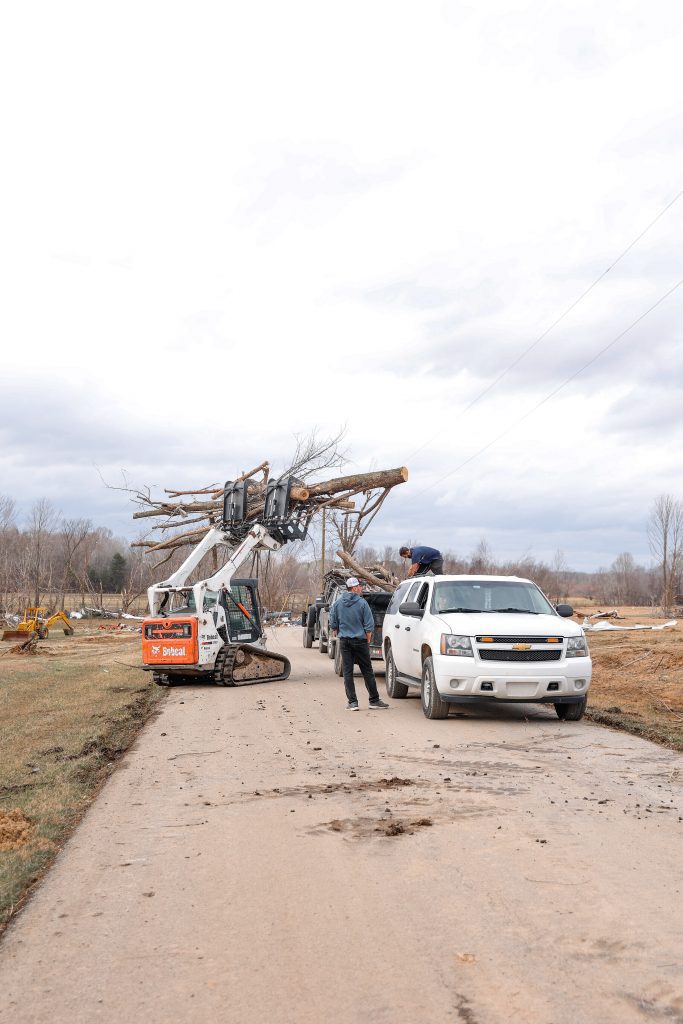 The First Response Program
The purpose of this program is threefold: to train and equip our youth, to activate the church, and to impact our nation.
Our goal is to send leaders, trained and equipped to respond to crises within the US and then build on that training and experience for further development to send them into more intense situations internationally.
Our organizational vision has always been to use disasters as a means to take the gospel into areas that would otherwise be closed and hostile towards us. We believe it is our responsibility to put our volunteers in the best position to succeed in whatever crisis they respond to and in whatever country that might be.
What we provide in a US Disaster Response
1. Leadership and Command Structure
Qualified and competent leadership to establish stability in a time of crisis,
and to empower the residents of the community to be part of the response.
2. Immediate Nourishment Needs
Food and water distribution by partnering with Blessings of Hope.
3. Initial Cleanup
Volunteers and tools to clear roadways, install tarps on damaged house roofs, and provide damage assessment.
4. Trauma Care – Prayer Support
Prayer and emotional support for traumatized individuals
Rolling Forks MS, March 27 2023The streets are in chaos, clogged with downed power lines, sightseers and volunteers. The fields of rubble are seemingly endless, …
1. To train our young men and women to respond  locally before sending them abroad. To vet and position leaders in their gifts and callings.
2. To activate our local communities by providing churches and businesses with a platform to respond to local disasters.
3. To impact nations around the world, we believe it starts with helping our communities at home.
How will we accomplish it?
We will train and deploy volunteers, equipped with the necessary knowledge and tools to respond to disasters within the United States. We will care for people struck by disaster while preparing the volunteers for international deployment.
When disaster strikes, we will be there to provide emergency relief and to bridge the gap between the needs of the community and the organizations working to meet those needs.
When disaster strikes, we will respond within 24 hours with a trained, 5 person team. This team will respond with a truck conversion RV, pulling a 32 foot trailer stocked with tools and equipment. We will also deploy a crew cab truck that will be used as a mobile vehicle at the disaster area.
Upon arrival to the disaster area, the RV will be set up as the center of operations. It will function as living quarters and a command center, with two people assigned to staff the command center. These staff members will coordinate with the
Pennsylvania headquarters in addition to being a liason between PCCR and the other agencies and organizations on site. Their first priority will be to dispatch the rest of the team to assess the immediate needs in the area. They will then relay the information to the headquarters and other agencies as needed.
Meeting the food and water needs and opening the roads will be an immediate priority. These include cutting trees, removing debris, and getting the roads opened so the local population and other agencies and organizations can move into the area.
The next priority will be shelter needs, which includes emergency repairs to make some of the houses able to be occupied again. These repairs will involve removing trees off of houses, tarping house roofs, and pumping water out of basements. As the most urgent needs are met, we will set up and facilitate prayer stations at the temporary shelters where the local population is staying. 
Within several days of our arrival we will set up base at a location that can handle teams of volunteers. They will arrive and be dispatched by the command center to the needs in the area. We will mobilize the local population to become a part of the response and work alongside our volunteers.
Once the initial needs are met and the situation stabilizes in the disaster area, our work will be discontinued or handed off to organizations focused on rebuilding. The team will wrap up our operation, return to our Pennsylvania headquarters, and prepare for the next response.